71st Annual Prairie du Chien Ice Fisheree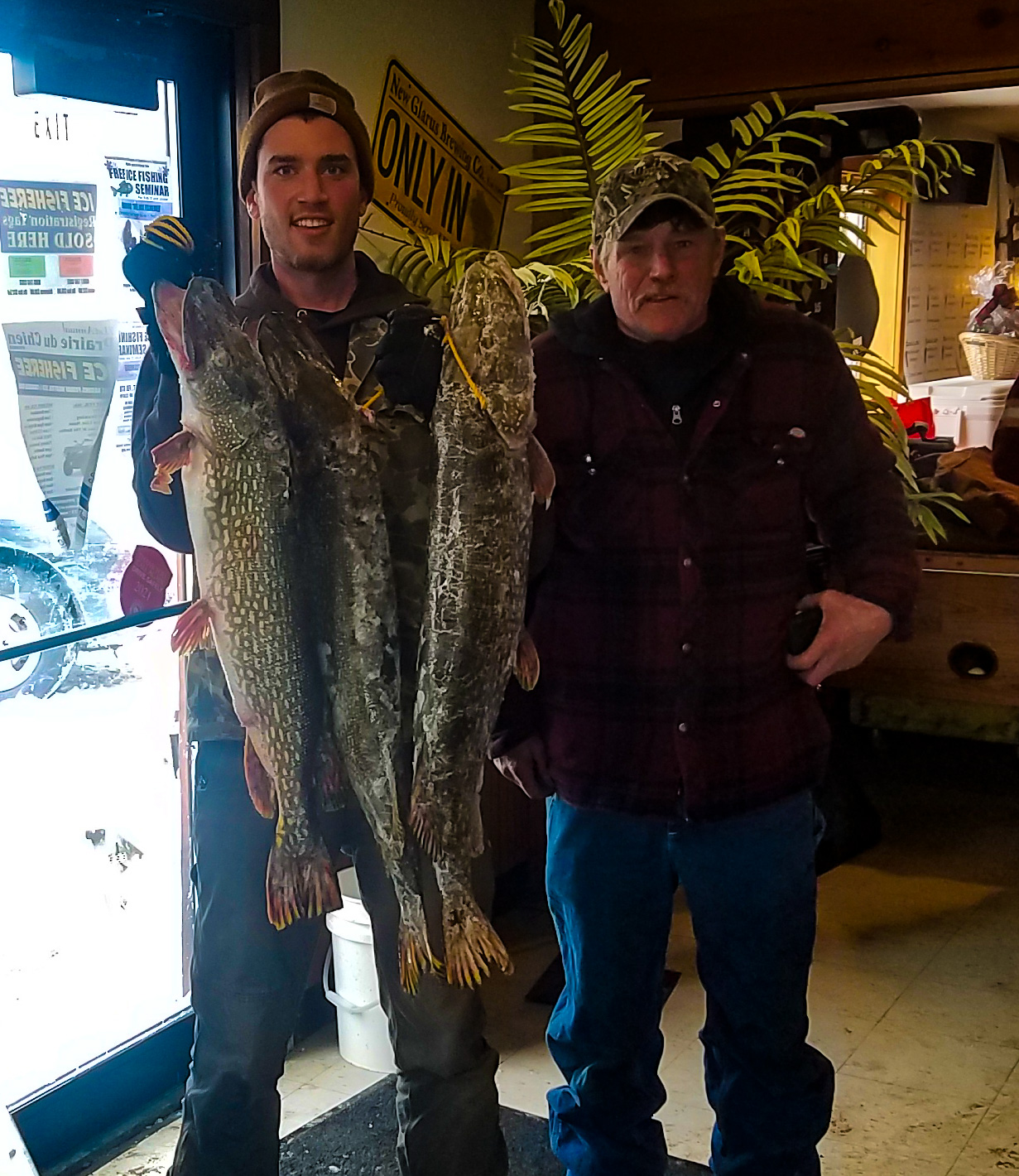 Adult Results
Northern Pike
1st - John Austin (15.25)
2nd - Nic Carlson (13.42)
Large & Smallmouth Bass
1st - Zach Thorton (2.95)
2nd - Dan Austin (2.88)
3rd - Aaron Winter (2.44)
Yellow Perch
1st - Marty Govert (1.57)
2nd - Dylan Zeccaro (1.19)
3rd - Dan Knock (.42) tie
3rd - Cole Johanningmeir (.42) tie
Crappie
1st - Fred Kilbey (.93)
2nd - Marty Govert (.70)
Kids Results
Walleye/Sauger
1st - Pat Ries (1.25)
Yellow Perch
1st - Paxton Wylie (2.46)
2nd - Landon Roe (.76)
3rd - Pat Ries (.66)
Crappie
1st - Ethan Igou (.61)
Sunfish
1st - Jacob Rausch (.32)
---
Big Prizes
CF Moto 500 4-Wheeler: Pat Lorenz
$500 Cabela's GC: Tom Sedlmayr
$200 Cabela's GC: Mitch Dreher
Ruger 30-06: Chloe Groom
Register in advance for $12/adult, or $15 on the day of the event.
Kids 12 and under are $10 in advance, or $12 the day of the event.
Advance registrations are currently only available via paper form. Many were mailed out. If you need a registration form, contact Prairie du Chien at 1-800-732-1673 or by email, info@prairieduchien.org.
Deadline for Advance Registration: Monday, February 1, 2021 - Must be received at Prairie du Chien Chamber of Commerce Office.
Late entries can be picked up at The Crooked Oar on the day of the event.
Licenses: Wisconsin fishing licenses are good through March 31, 2021. Fishing is open to any waters in the Prairie du Chien area.
Iowa residents may use their current year Iowa fishing license. Residents of other states will need a non-resident license to fish in Wisconsin.
Kid's Ice Fishing Expo
Kids 12 & under can learn the fundamentals of ice fishing with Hunter Fortney on Saturday, February 6th 11am - 12:30pm.
Adult Fishing Prizes:
1st Place: $60 Stark's Sport Shop Gift Cert.
2nd Place: $40 Cash
3rd Place: $20 Cash
Kid's Fishing Prizes (12 & under):
1st Place: $50 Cash
2nd Place: $20 Cash
3rd Place: $10 Cash
Prizes awarded in these categories:
Walleye/Sauger
Yellow Perch
Sunfish
Crappie
Northern Pike
Large & Smallmouth Bass
Also, all fisheree registration stubs will automatically be put in the door prize drawings for up to $1,000 in local merchant gift cards!
Prize Money Fish
A Prize Money Fish will be released in Gremore Lake. The amount of the prizes will be determined by Fisheree participation.
Grand Raffle Prize:
CF Moto 500 4-Wheeler!
Sponsored by: Prairie Motor Sports, Fillback Automotive, Supreme Graphics, Crooked Oar, and PdC Ice Fisheree Committee.
Other Raffle Prizes Include:
CLAM Ice Fishing Chair
Portable Buddy Radiant Heater
Fishing Fire Ring
$100 in Chamber Bucks
Weekend Getaways, Fishing Merch, & More!
Raffle Tickets are $10/each.
Ticket stubs are placed in corresponding prize containers at The Crooked Oar.
If you are not present during the drawing, yo will be notified by mail or phone. Make sure to fill out your ticket legibly!
Cash prize winners of $600 or more may be required to take polygraph exams as part of the contest requirements. In the event deception is detected, the entrant's prize will be forfeited. If a tagged fish is caught, it must be immediately brought in and registered at the weigh-in site to be eligible to win.
Raffle Authorization #R0037339A-59384
Sponsored by: Prairie du Chien Area Chamber of Commerce, Cabela's, Prairie Motor Sports, Fillback Automotive, The Crooked Oar Bar & Marina, Supreme Graphics, Prairie du Chien Tourism Council & Stark's Sport Shop